Processed World 14 is almost out of print.
We will fulfill orders with photocopies when it is gone.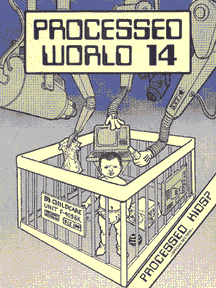 cover graphic by Louis Michaelson
Talking Heads
introduction
Letters
from our readers
Equal Opportunity Parents: Just How Equal Can We Be?
article by maxine holz
Motherhood & Politics?
article by monica slade
Computer Education = Processed Kids?
interview with herbert kohl
LEGO: A 'Play System' for Modular Thinking
article by imma harms
Poetry
by maximin, lipshutz, barclay, derugeris, lifshin, schaffer & breiding
A Day In The Life of Employee #85292
tale of toil by jay clemens
International Loafers & Winos Union
fiction by jeff goldthorpe
Unwanted Guests
article by dennis hayes