Processed World 4 is out of print.
We will fulfill orders with photocopies.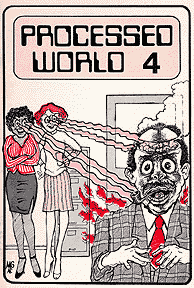 Cover Graphic by Melinda Gebbie & Adam Cornford
Talking Heads (Introduction)
Traces
DOWNTIME!
Basic Principles of Resistance (by Solidarity)

SF Supes Bolster Sagging City Worker Unions

Justifiable Terminal-icide

Confidence Crisis For Middle Management

The Typist Addreses her IBM Selectric
That Damn Office!